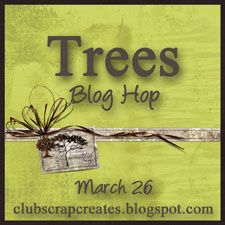 Hello! Welcome to the Trees blog hop! This month we're using Club Scrap's
Trees
collection. I'm going to show you how I used the beautiful paper in the kit to create some handmade details for my scrapbook layout.
If you traveled here from
Lisa
's blog, then you are following the hop! If you've lost your way or just want to see all the links in one place, head over to the
Club Scrap Creates
blog to see a list of all the talented bloggers participating today.
As usual, on the first of the month I got all excited and created a mood board based on the theme of the kit and the warm and springy colors in the palette:
Follow Marya Kaszubinski's board Trees Mood Board - Club Scrap March 2014 on Pinterest.
This month I was particularly drawn to the beautiful greens in the kit and in my mood board, and I also found a lot of inspiration from quilts and geometric shapes on Pinterest.
I was lucky enough to take some time off of work last week and go scrapping at my friend Marie's house for four days, so I tackled a lot of scrapping projects that were in the works. I was able to complete the bulk of my New Zealand album...which has since turned into album
s
. I knew the lush greens and browns of this kit would go perfectly with my hiking pictures. (Even the bright red mushroom goes with these papers - do you see that thing? Pretty sure that is straight out of Super Mario Bros.)
I used this
month's layout card
as the basis of the layout, and took advantage of the open white space to "quilt" with some paper. (Quilting and this kit seem to go hand in hand - check out Kay's
card and layout here
!) I cut some of the paper into 1.5 inch squares and then in half again to make triangles. Then I paired them up to make my own quilted embellishment.
I also did some paper cutting on this page by cutting two sides of a triangle and folding the flap back to create an open space that I later backed with the white paper from the kit. I adhered the flaps with foam tape so they would retain their dimension - I was really pleased with the combination of the flaps and the flat paper triangles!
Finally, to continue with the quilted theme, I added some hand-stitched details with my trusty paper piercer, needle and thread. I finished this part up while watching Breaking Bad - I find it so relaxing! (Not the show. The show is awesome and addictive and thrilling, but relaxing it is not.)
I hope to get some more paper piecing and "quilting" into my projects since I loved how this page turned out. Thank you so much for stopping by and I hope you might try some quilting and hand stitching in your projects! Head on over to
Annette Dragon
's to see what she has to share. Come back next month when we're working with the floral
Hydrangeas
collection!