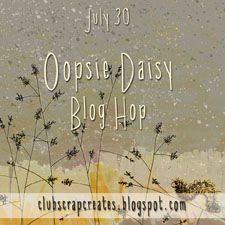 Hello again! Welcome to the Oopsie Daisy blog hop! This month we're using Club Scrap's
Oopsie Daisy
collection. I'm going to show you how I created a project based on something I found I needed while traveling for work earlier this month!
If you traveled here from
Tiare'
s blog, then you are following the hop! If you've lost your way or just want to see all the links in one place, head over to the
Club Scrap Creates
blog to see a list of all the talented bloggers participating today.
I have totally been neglecting the crafting world and my scrapbook room over the past 6 weeks due to work (I didn't even have time to create my monthly mood board yet! Gasp! You know it's bad when I'm ignoring Pinterest...). I'm so glad I'm slowly getting back into the swing of things and had time to churn out this quick little project using this month's kit!
I was in Madrid presenting at three meetings earlier this month (I know, my life is so hard) and I found myself having an unorganized time trying to juggle all of my maps, tickets, and receipts. (I just threw them all in a plastic bag.) That made it pretty difficult weeks later when I was trying to complete my expense report at work. (My sandwich for lunch? Definitely reimbursable. The cute dress I bought? Not so much...) I decided I wanted to recreate a project from Club Scrap to help me stay organized on my next business trip.
So I created this travel portfolio using the warm and deliciously textured papers from this month's kit. This portfolio is a recreation of the Retreat packet we received for the Retreat in 2012. Just grab a few business-sized envelopes, your favorite Club Scrap papers, a few stamps, and off you go!
First adhere the flaps of the envelopes to the outside (the smooth side) of the next envelope, as I did above, so you have a line of envelopes connected to each other. I then covered the non-pocket sides of the envelopes with paper and stamps. I didn't take my normal leisurely stroll around
GHM
before my
Lite
kit shipped, but I'm kicking myself for not picking up
some of
those
adorable
stamps
to decorate this portfolio with. I made do with a globe (from Bookshelves) and "noise" stamp (from Comfort Zone) to decorate the front of my portfolio.
On the non-pocket side of the portfolio, I added in a little business card holder following Tricia's instructions
here
, with a few adjustments to make it thinner so the portfolio would close. That means I can throw this into by bag, keep my mementos and receipts organized, and be all professional-like and whip out my card like no one's business.
On the pocket side, I added in spaces for labels, but I couldn't decide how to label these envelopes quite yet. I may change this out and create a mini pocket so I can slip different labels out depending on how I'm going to organize this portfolio. Right now I have room for business expense receipts, personal receipts, tickets, and maps!
Thank you all for stopping by and bearing with me through this bout of radio silence! I hope next month is a little more calm - I'm only traveling in the States this time ;) Which leaves more time to create and scrap!
Now head on over to
Annette Dragon
's to see what she has to show you this month. Come back next month when we're getting ready for our close ups with the
Cinema
collection!