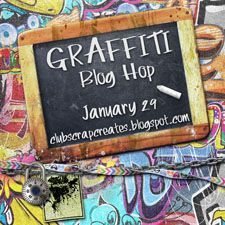 Hi there! Welcome to the first Club Scrap blog hop of 2014! This January we're creating with the bright and trendy
Graffiti
collection. I'm going to show you how I used the vivid papers in this kit to complete a project I had in my mind for a long time!
If you traveled here from
Lisa
's blog, then you are following the hop! If you've lost your way or just want to see all the links in one place, head over to the
Club Scrap Creates
blog to see a list of all the talented bloggers participating today.
One of the first things I did when this kit was revealed was to make my own mood board on Pinterest. I used the colors and themes in the kit to search for pins that would help me get inspired to use this kit creatively.
This helped me to gather ideas for this month's blog hop and is something I will reference when I'm using elements of this kit later down the road.
Oh yeah, I thought it was a brilliant idea to cover those die cuts with paper and then recut them out. Took no time at all...
What I did think was brilliant was that I was originally going to adhere these to a plain piece of paper, then, thanks to my mood board, decided to mount these shapes on Club Scrap black colossal paper (thanks Marie for the paper!) and do a
chalkboard technique
to go along with the chalkboard elements of the kit.
Thanks to some white pigment ink, some stamps from Graffiti and white embossing powder, and my trusty colored pencils, I think I was able to pull the chalkboard elements together. I really like how the bright colors of the paper stand out more against the dark background. (And these pictures do not do these papers justice - the blue and green are amazing metallic papers, and the other colors are so vibrant - I can't wait to use these on other projects.)
The great thing about these diecuts is that they were made to fit together like a puzzle, so I did not have too bad of a time putting these together at the end. If you don't want to use diecuts, this would be a perfect excuse to use your electronic cutting machine to end up with the same results.
I decided to add some lettering at the end, and I'm pretty happy with the hand-drawn look I was able to accomplish - all the thanks to stamps and a stencil! I used the font stamps from Mirror, Mirror for the lettering, and I used the Freedom banner stencil to add in the waving banner. Taking inspiration from
this pin
, I added in some hand-drawn details with a white colored pencil, the 3-D opaque pen that was included in my
Lite
kit, and made the letters pop by coloring them in with bright colored pencils. I'm really pleased that the texture of the paper can be seen through the coloring - it really helps with the chalkboard look, don't you think?
Thank you so much for stopping by and I hope this inspired you to get bright and crafty! Head on over to
Annette Dragon
's to see what she has up her sleeve. Come back next month and see what the
Big Deal
is with Club Scrap!
Supplies // Paper: Club Scrap Grafitti: Pink, Orange, Yellow, Green, Blue, Black Colossal Paper/ Stamps: Club Scrap Grafitti: Art Nouveou, Mirror Mirror / Inks: Club Scrap White Pigment Ink/ Tools: Freedom Banner Stencil, 3-D opaque pen, white embossing powder