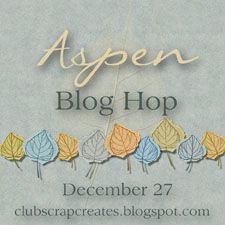 Hello! Welcome to the December edition of the Club Scrap blog hop! This month we're crafting with the wintry Aspen collection. I'm going to show you how I used elements of this kit on a traditional layout and a pocket-style scrapbook page.
If you traveled here from
Lisa
's blog, then you are following the hop! If you've lost your way or just want to see all the links in one place, head over to the
Club Scrap Creates
blog to see a list of all the talented bloggers participating today.
I have a lot of ideas of what I want to get accomplished in 2014, crafting-wise, and one of them is to get all of my old pictures into albums. I'm a little overwhelmed with what I have to tackle on these, so I think I'm going to slip most of these pictures into pocket page protectors
like these
. I was able to use many elements from this month's kit to create 4x6 and 3x4 cards that I then used on these both on a traditional 12x12 layout and in the pocket page protector.
My original inspiration came from
this layout here
- instead of using pre-made 3x4 cards, I created my own with the papers in the Aspen kit and all of the goodies that came along with it!
Some of my favorite supplies in this kit include the
mica handmade paper
and the
wood veneer sheets
. And the
chevron ribbon
. Oh, and the
buttons
. Really, pretty much everything. This is a pretty simple page for me, but it helps to not complicate things to much when you are going to pair this with a very linear page next to it using the pocket page protector.
I was able to get a lot of photos into these pockets pretty easily - I only had to cut a few down to size to fit into the smaller pockets in the middle. I had a lot of fun trying to see how I could fit elements like the stickers and the die cut frames on this side of the page.
I think my favorite part about this side is the 3x4 wood veneer card I punched out. I also ended up using the stars that I punched out on the traditional 12x12 layout, so I got a lot out of this piece of wood veneer and the punch! Depending on what I put on the reverse side of this page, I might line the back of the card with washi tape so it peeks through the cutouts, or just leave it transparent. I'll make a decision when I get there!
Supplies // Paper: Club Scrap Aspen: Almond Plain, Blue Pattern, Green, Almond, and Aqua Patterned Paper , Handmade Mica / Stamps: Club Scrap Aspen Collection UM, Art Nouveau / Inks: Club Scrap Sandstone, India Ink / Tools: Martha Stewart Starry Sky Punch, Pocket Page protectors / Embellishments: Club Scrap: Wood Veneer Sheets, Tags & Cutouts, Stickers, Chevron Twill, Buttons