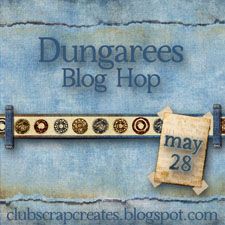 Greetings! Welcome to the Dungarees blog hop! This month we're using Club Scrap's
Dungarees
collection. I'm going to show you how I tried to fit in some quick scrapping in between all of my travels this month!
If you traveled here from
Tiare'
s blog, then you are following the hop! If you've lost your way or just want to see all the links in one place, head over to the
Club Scrap Creates
blog to see a list of all the talented bloggers participating today.
At the beginning of the month, I knew I would have lots of photos by the end
and
I knew I needed a quick an easy way to scrap these photos. I was lucky enough to "have" to go to London for work, and then I spent a week in Poland visiting a friend. Those two weeks of travel didn't leave a lot of time for scrapbooking, keeping up with blog reading, or other scrappy things (like visiting my favorite
message board
- I'll make a reappearance soon my CS friends!) I did manage to start a mood board, but I plan to add many more pins to this even after this blog hop:
Follow Marya Kaszubinski's board Dungarees Mood Board - Club Scrap May 2014 on Pinterest.
So I decided to start using some of my stash and made the commitment that I was going to use a Sn@p album and the pocketed pages included to document my previous work trip to London and Scotland, and my current travels to the UK and Poland. A week after returning to the States, I have most of my pictures printed and a few pages put together thanks to my Dungarees kit, so I'm counting that as a win!
The colors of this kit really worked well with my travel pictures. The bright blues complimented the blue skies (if they appeared in London) and the yummy orange really made the pages pop. Plus the amazing texture of these papers can't be missed! You can especially see these textures when you rip the papers as I did on this photo mat, and they add some nice dimension to the little banner I created out of waxed linen thread and the safety pins from this collection.
I had some fun coming up with different ways to use the elements of this kit. I matted all photos on the cardstock from the kit so they would not slide around too much in the pockets. I ended up cutting the papers into 1/2 inch strips, then adhering them on a diagonal to another piece of paper to make the fun paper element seen below.
The beauty of pocketed page protectors is that you can fit a lot of photos in a small space. By using papers from the same collection, I'm able to create a cohesive mini album, even though I will be using pictures from three different events.
There were a lot of cute embellishments from this month's kit that I added to my cart, especially these garments tags that I've used for a journalling spot. I've let the string from this tag hang out over the top of the page protector, just for some interest. I tend to think of "mini-albums" as a little less formal than my "official" 12x12 albums, so I'm looking forward to adding some interactive pieces to these pages.
And in my delusional grand plan, I was going to have all pictures from London, Scotland, and Poland scrapped within a week returning to home, and guess how that went? I think I will be able to get these done fairly quickly, and will be back soon with a full album share. (I hope!)
Thank you so much for stopping by! Now head on over to
Annette Dragon
's to see what she has to show you this month. Come back next month when we're officially welcoming summer with Club Scrap's
Picnic
collection!