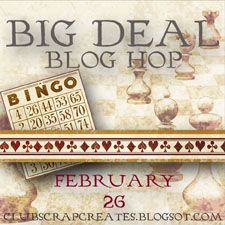 Hi there! Welcome to the Big Deal blog hop! This month we're using Club Scrap's Big Deal collection. I'm going to show you how I used the paper and digital kits to (partially) create a fun project for your photos!
If you traveled here from
Lisa
's blog, then you are following the hop! If you've lost your way or just want to see all the links in one place, head over to the
Club Scrap Creates
blog to see a list of all the talented bloggers participating today.
When the sneaks for this kit were revealed in January, my mind immediately began thinking of something I could do within the theme of games and cards. I first created a Pinterest mood board to help get the ideas rolling:
Follow Marya Kaszubinski's board Big Deal Mood Board - Club Scrap Februrary 2014 on Pinterest.
I was thinking of creating a mini album out of old playing cards, but then Club Scrap had this wonderful idea of supplying a
kit with a blank deck of cards
for decorating with, so I decided to try a different idea.
This month was the first time I delved into the digital/hybrid world! So exciting. I used the
Big Deal digital kit
and some yummy papers from the collection to create my own playing cards and a handy box to house them in!
To create the cards, I created a template in Photoshop to resize the photos I wanted to use, then dropped the digital stamps for the numbers and suit symbols on top of the photos. I then printed the photos, attached them to cardstock that I had printed some digital elements on to, and I have my playing cards!
You may notice that my suit of hearts are not quite the color you would expect (ie. red). I showed my boyfriend the finished product (only the suit of hearts so far) and he said, "Aren't the hearts supposed to be red?" This was pretty much my reaction:
So yeah, I may have given up after that point since I had already procrastinated enough and did not have the energy to start over, so I made the box instead. I used and modified the instructions
Tricia
had provided in
this post
for her business card holder. I cut a 7x10 inch piece of the yellow paper, scored it vertically at 1.25", 2.25", 4.75" and 5.75", then scored it horizontally at 3.5", 4.5", 8" and 9". After I assembled it according to her instructions, I added some red pearl panels and edged the whole thing with brown ink.
So there you have it - a partially completed deck. I'm still liking the idea of making my own cards, so I think I'm going to redo this suit in the correct color and then make the 3 remaining suits. I'm also going to laminate the cards so they don't come apart from their backing and that might help with durability. Check back in and I hope to have the completed project soon!
Thank you so much for stopping by and I hope you might try something new like me and work some digital/hybrid kits into your crafting! Head on over to
Annette Dragon
's to see what she has to share. Come back next month when we're working with the springy
Trees
collection!