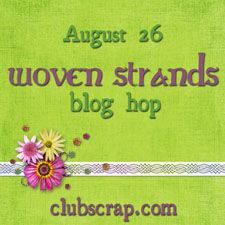 Welcome back, blog hoppers! I really cannot believe it's the end of August - where did the time go? The good thing about being at the end of the month is that it's time to share all of the fun projects we've been working on with the
Club Scrap
Woven Strands
collection!
If you traveled here from
Roni
's blog, then you are following the hop! If you've lost your way or just want to see all the links in one place, head over to the
Club Scrap blog
to see a list of all the talented bloggers participating today.
I fell in love with the intricate stamps and patterns in the kit this month, and I was inspired to highlight the beautiful artwork in a few ways this month. I made three cards to show of the amazing designs in this kit:
For my first card, I drew inspiration form the delicate knots from the
Art Nouveau
and the
Borders and Background
stamp sets and the sentiment on the
Collection
stamp set. I wanted to incorporate threads of some sort on this card, so I hand-stitched the variegated fiber from the
Embellishment pack
and some craft thread I had on hand over the stamped images I had stamped on the background.
I pierced holes in the corners of the stamped images so I could easily sew with a needle and thread. I finished off with some
rhinestone bling
on the knots that didn't have any stitching on them, just so they wouldn't feel lonely. I stamped the sentiment with embossing ink and hematite embossing powder to add a little shine.
My next card was my attempt at home Celtic-like knots. I used the white ribbon from the Embellishment pack to create this large knot following
these directions
I found on
Pinterest
.
I stamped the "Joy" sentiment with the hematite embossing powder again. While simple, I love the way the ribbon turned out - weaving it together was pretty fun!
My last card used the large knot panel from the Collection unmounted stamps - I stamped that on my background panel with
India Black Ink
, then stamped the individual panels on different colors of paper.
I then fussy-cut the colored images out using a craft knife, then adhered the colored knots on top of the panel in their own sections. I love the way the images pop on this card!
There are so many wonderful techniques you can try with these intricate stamps - I hope you pick them up in the shop and try it out for yourself!
Thank you so much for stopping by, and be sure to head over to
Anne Marie
's to see what she has to share this month! Don't forget to swing back around next month when we're working with the
Transformations
kit - I seriously can't wait for that one!