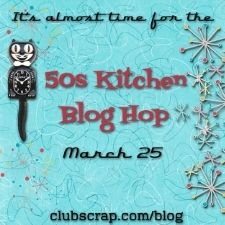 Hi again and welcome to the March edition of the Club Scrap blog hop! This month, we are having fun with the
50s Kitchen
collection - I can't believe how awesome this kit is this month!
If you traveled here from
Tricia
's blog, then you are following the hop! If you've lost your way or just want to see all the links in one place, head over to the
Club Scrap blog
to see a list of all the talented bloggers participating today.
This month I had been slooooowly cleaning and reorganizing my craft room so I could more easily find my supplies as I can across a few empty tins I had stocked up on when Club Scrap had stocked them in the store. You could easily recreate this project using an old Altoids tin or similar, and the end result is so fun, that I hope you do!
I first stamped on the plain black tin top with
white pigment ink
and the amazing stamps from this collection. I heat set the ink with a heat gun to prevent too much smearing.
I also made a cute belly band to make sure the top wouldn't come apart from the rest of the tin, and just to add that adorable cherry stamp. I used one of the strips from the Deluxe kit cutaparts for the base and stamped on red and black circles that I cut from the photos mats for some added interest. I then stamped the cherry image in green, then the cherries in red and cut these out to adhere to the green image for a two-toned embellishment.
The bottom half of the tin houses a two-sided mini album, complete with spots for photos, journaling, and mini envelopes.
I lined the bottom of the tin with another piece of paper from this kit - the color combinations and patterns are so cute and versatile!
The mini envelopes I made house slightly smaller slider cards that you can slide out using the ribbons included in the Embellishment kit for this collection. There are so many spots to decorate to your heart's content with this mini album! I wish I can say that I was clever enough to think of this design on my own, but it's adapted from
this post here
. Someday I will be that crafty!
Thank you as always for stopping in here to see what craftiness I've been getting into! H
ead on over to Hetty'
s blog to see what creative inspiration she has in store for you. Stop back in next month when we're hoping Spring is here to stay with the Botanicals collection!